UPDATE ON THE SEARCH FOR A SUPERINTENDENT:
The Gonzales Unified School District has appointed a new Superintendent on June 14, 2022. Dr. Matilde Zamora was appointed and will commence work as of July 1, 2022.
Please join us in welcoming Dr. Zamora to Gonzales as she will be relocating to the area in the interim of her first day at work. Below is a press release on Dr. Zamora.
On Tuesday, March 22, 2022, the Board of Trustees selected McPherson and Jacobson, LLC. to provide professional services for a Superintendent search. McPherson & Jacobson will work with the Board of Trustees to design a search that meets the unique needs of our district. The firm's five-phase protocol allows the Board to concentrate on the most important segments: the interview and selection of the successful candidate. The team of consultants, working in conjunction with the Board and diverse stakeholder groups identified by the Board, will implement a systematic, comprehensive process culminating in the hiring of the most qualified candidate for our district.
At the core of the firm's work is the belief that every student is entitled to high-quality education and that this is dependent upon quality leadership. They understand that students have diverse needs, thus, they focus on the intentional recruitment of a diverse candidate pool that includes ethnic and cultural identity as well as experience in culturally proficient practices that have proven successful in addressing educational equity gaps. This unique approach is made possible through the diverse and extensive network of consultants who have various levels of expertise in the school system from superintendents, to school board members, to educational equity experts. We believe this has contributed to our successful placement of qualified candidates around the state and nation who have met extensive equity-focused criteria and continue to make an impact in the districts they serve.
McPherson & Jacobson has been conducting searches for boards of education since 1991. Our California consultants will ensure your search results in quality leadership for your district.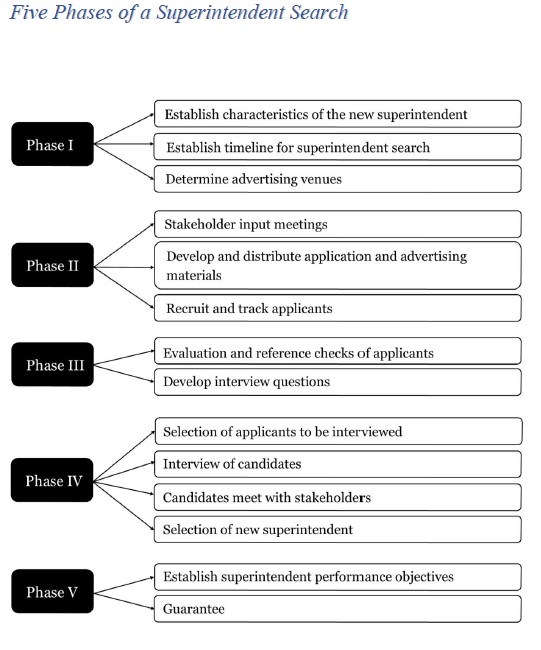 Superintendent Proposed Timeline:
March 29, 2022 First Board Meeting
April 1-5, 2022 Consultants/Board Finalize Criteria & Calendar
April 7-15, 2022 Stakeholder, Individual and Group Meetings
April 7, 2022 Advertise the Position
April 16 -May 7, 2022 Complete Stakeholder Input Report for Board
April 26, 2022 Second Board Meeting (Closed/Open Sessions)
May 3, 2022 Closing date for applications
May 4-13, 2022 Consultant tasks (screen applications, conduct reference checks, and app contact, develop "short list" of candidates, prepare interview procedures
May 17, 2022 Third Board Meeting (Closed/Open Sessions)
May 25-26, or June 3-4, 2022 Interviews (full days)
May 2022 Consultants conduct additional reference checks
May/June (TBD) Second Round of Interviews (tentative)
May 27-30, 2022 Finalist Confirmation
June 14, 2022 Appoint New Superintendent (Regular Board Meeting)
July 1, 2022 Starting date for Superintendent
McPherson & Jacobson is committed to working with the school district until a superintendent is identified and hired. If a quality candidate is not found during the first round of candidate selection, McPherson & Jacobson can assist the district in finding an interim for the next school year, and then reopen the search in the fall.
McPherson & Jacobson will not charge for Gonzales USD to help select an Interim Superintendent.
If the board chooses to place an interim, McPherson & Jacobson will assist in placing an interim and then open the search at a later date agreed upon between the board and the consultants. McPherson & Jacobson L.L.C. maintains a file of retired superintendents who are interested in serving as interim superintendents. They will visit with those individuals to assess their interest in our district, and then set up interviews with the Board and potential interim candidates. The expenses involved would include any interview expenses related to interviewing potential interims (McPherson & Jacobson would recommend online interviews until a potential final Interim is identified), plus associated office expenses.